Mor Aluminium has set out with the principle of making production at world standards by using technology for all kinds of demands of the sectors in 2005. It has become one of the well-known extrusion companies with its long years of experiences and works.
Mor Aluminium

continues to manufacture aluminum profiles with high quality and customer satisfaction as a solution oriented. Mor has more than 11.000 dies who exporting to more than 20 countries in Ankara, Turkey.
To maintain and improve customer satisfaction

To have an open mind

To be persistent and determined

To be solution-oriented

To have continuous development

To have confidentiality

To have quality-oriented service

To be aware of social responsibility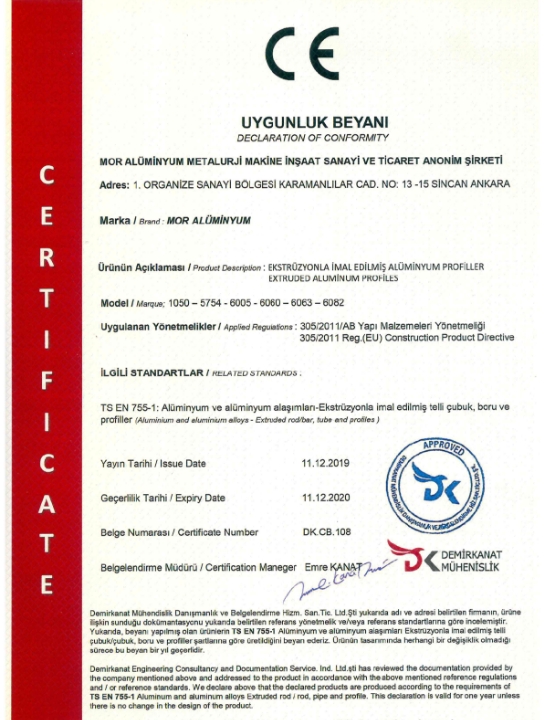 CE Declaration of conformity
TÜV International Certificate
In addition to keeping the quality standards at the highest level by obtaining ISO 9001-2015, CE 2021, TS EN 755-1-9, NCAGE certificates, Mor Aluminium with nature-friendly production and sustainable living principle carries its signature to the future.
We take into account the environmental impacts of our activities that may arise at facility, and we aim to solve all kinds of problems at the source. We use natural and sustainable resources with the highest efficiency in our production. As Mor Aluminium Team, we maintain our environmental awareness sensitively.
In order to reduce dependency in energy and to minimize environmental effects, Mor Aluminium supplies most of the energy it needs from Solar Energy Panels which are located in own facility.
To respect nature and future, Mor Aluminium has a chemical treatment plant in factory and stores own chemical wastes and sends them to the relevant institutions.